Minneapolis and St. Paul Area Floor Heating Systems
Finding a System that Meets Your Heating Needs and Your Budget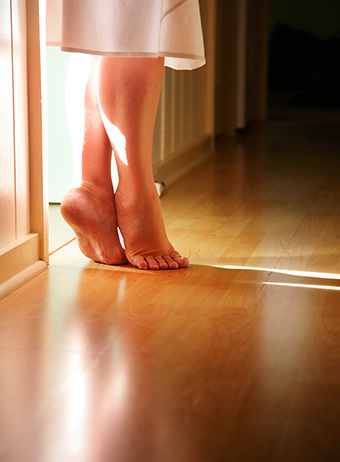 If you're looking for an efficient home heating system that provides luxurious warmth and comfort, there's no other system or technology that can compete with radiant heat. With heated floors, the warmth emanates from the floor, warming objects and people. And virtually all of the energy goes to heating the home. Radiant heat systems operate silently and efficiently, without any measurable heat loss.
With traditional forced air systems, hot air is blown through a series of vents throughout the house. Even when a vent is closed, hot air typically escapes through them, "whistling" into rooms that you've opted not to heat. And the warm air rises quickly to the higher levels of the room, heating the top half while the bottom half remains cooler. This is relevant because most children play on or near the floor. This is called stratification. But with radiant heat, there is no stratification.
Radiant heated floors keep the lower levels of the room comfortably warm as heat spreads slowly from the floor up through the living space. There's simply no better heating system for a house with children.
Are There Different Types of Radiant Floor Heating Systems?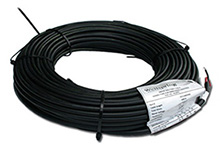 In-Slab - Radiant floor heat utilizes heating cable, or some other type of heating element that is embedded under the flooring. Some heat resistance cable, such as In-Slab cable, is embedded directly into the concrete slab. This cable is larger than other floor heating cable, featuring a rugged outer jacket capable of handling the stress of heavy concrete pours. The cable efficiently heats the concrete which in turn warms the floor. The concrete retains the heat for long periods, making this a very efficient floor heating option.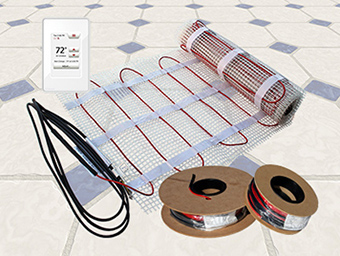 ComfortTile - The most popular floor heating system, ComfortTile, features thin heating cable that is laid out over the subfloor and then thin set is applied and tile is installed. This cable is available on spools or pre-spaced in mats with an adhesive backing. Unlike most radiant heat providers, Warmzone carries a dynamic range of floor heating systems. We're not locked into only offering one brand. This helps to ensure that customers are matched with the ideal floor heating solution for their home.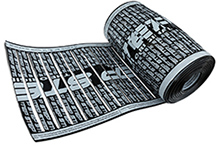 CT floor heating cables have ground fault (GFCI) protection and emit no measurable electromagnetic fields (EMF). The floor heating system is UL approved and carries a 25-year warranty.
FloorHeat STEP - There are several floor heating elements – other than heat cable – that have also proven effective for warming floors. Low-voltage flexible polymer heating panels are often installed to heat hardwood floors. The FloorHeat STEP system features a self-regulating, semi-conductive polyethylene heating element that is thin enough that it does not affect the weight loads, and has proven itself to be one of the best options for heating hardwood floors.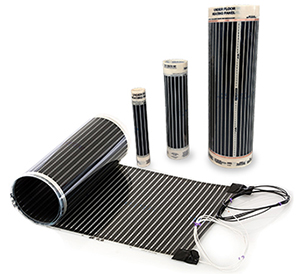 FilmHeat - The paper thin FilmHeat system features a unique "film" heating element that not only can be installed for typical floor heating applications, but can be used to heat existing floors. If you have access to the floor joists, the thin heating element can be stapled up between the joists and then Batt installation is placed over the element to direct all the heat upward to the floor. This is a much more affordable alternative to replacing the entire flooring. Its most common application is heating laminate floors.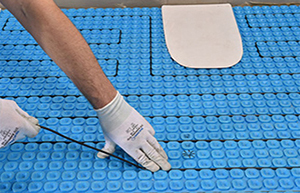 Prodeso® - The Prodeso® floor heating system features a flexible membrane with channels for the heat cable. The membrane is laid out over the floor and then ComfortTile heat cable is placed into the channels and the floor surface is then installed over the membrane and cable. The membrane serves as an uncoupling and waterproofing system for heating floors without movement or expansion joints in the screed. It combines the benefit of an underlayment membrane with the comfort and convenience of electric floor heating.
FoilHeat - FoilHeat (pictured left below) is another unique floor heating system that can be used to heat laminates, engineered wood and other floating floors. The system features thin fluoropolymer insulated heating cable sandwiched between two layers of specially reinforced aluminum foil. The under floor radiant heating system is UL approved and carries a 10-year warranty.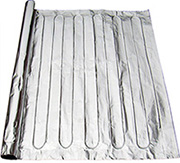 Each floor heating system is controlled by either an advanced programmable thermostat or a simple electronic on/off thermostat. Each room or zone can be controlled by its own thermostat, further adding to the efficiency of radiant floor heating. The thermostats are designed to control electric radiant heating for maximum comfort and minimum power consumption. Options are available for thermostats with a built-in temperature sensor or an external sensor or both.
Warmzone offers even more radiant floor heating systems, each of which can be customized to best meet your floor heating needs as well as your budget. Contact Warmzone today to speak with a friendly radiant floor heating expert, or submit your project information for a free quote. Call 888.488.9276 today.